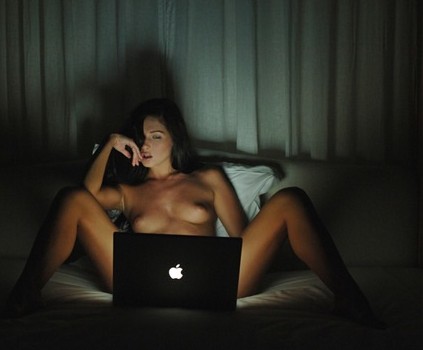 While most camgirl sites say that their models will do "anything you ask", it's good to have a game plan, rather than simply diving into the experience headfirst. Just because the boundaries are a bit looser here doesn't mean that there aren't any at all; in any case, you'll definitely get more out of the experience if you know what you're getting into.
Are you interested in chatting with a camgirl just out of curiosity, or are you looking for something to fill a gap after a bad breakup? Whatever you need, it shouldn't take long at all for you to find a quality video sex chat site like NudeLive. Before that happens, though, it can't hurt to go over a few tips. Fortunately, once you've gone over these basic ground rules, you'll be all set. Let's get into it!
What Not to Do:
Don't ask a webcam model to date in real life. It's even been confirmed by current and former camgirls: it's never going to happen.
To play devil's advocate for a minute, you can't totally blame someone who falls for a camgirl. After all, they're simulating intimacy on several different levels, and a lot of people on sex chat sites are there because they're lonely. For some, it's not such a stretch for a client to emotionally bond with a webcam model, and wonder if she might be happier if she left the life of a camgirl to live with the client.
In reality, the vast majority of webcam models don't feel like they're in need of rescuing. Many of them actually love what they do, and getting offers from infatuated clients is just one of the annoyances they deal with from time to time.
As you interact with a camgirl, remember that the way she responds to you is part of the job. It isn't because there's a special connection, or because she's falling for you; it's because you're paying her, and that's the kind of response her clients usually want. As long as you keep this in mind and avoid getting your signals crossed, everything should be fine.
Don't assume that the webcam models are anything less than professionals. Camgirls are professionals in their field just like anyone else. For many webcam models, the job is far from being their plan B – it's actually a career they enjoy.
Part of the misconception comes from outdated views of sexuality. Just a few decades ago, sex work was seen as universally degrading, and the people who did it were thought to lack other employment options. Thanks to evolving social norms, however, working as a camgirl is actually an empowering experience for a good number of them. Yes, some people work as webcam models because they have to pay the bills, but that's far from being the whole story.
Don't use video sex chats as a permanent replacement for real relationships. Webcam chatting with a camgirl can be a positive thing, but not if you're using it as a reason to avoid having a genuine, reciprocal relationship. It might help to decide beforehand where you want your webcam chatting to go. Are you taking a break to blow off steam in a safe, non-committal way? Are you exploring an area of your sexuality that you've never had the chance to before? Whatever the reason, don't let it turn into something that's holding you back.
What to Do:
Take it as an opportunity to build confidence. A lot of people struggle with feeling confident, sexually or otherwise. This could be for any number of reasons: a lack of previous experience, too much criticism from themselves or from others, or even a negative experience with an ex-partner. During a video sex chat, there's a lot less pressure to say the right thing, or act a certain way. The no-strings-attached dynamic allows you to relax and enjoy the show.
There can be future benefits to video sex chats too. When you're spending time with a camgirl, you aren't just enjoying a one-and-done experience; you could also be practicing your moves for when you do it in real life. Not only will your confidence get a boost from the camgirl's positive feedback (which may or may not be the absolute truth), but you'll also feel ready to show your next partner a great time.
Spend the money for private shows, rather than just sticking with public shows. For some people, public shows are all they really need – it's basically live porn. But if you really want to get the most out of video sex chatting, private shows are where it's at.
Just as there are many different camgirl sites, there are many different price points – feel free to shop around and find one that both you and your wallet will be happy with. If you're getting private shows, the model will follow your requests to customize the session. Depending on the site, the model might just read your text instructions, or you could find a site where you can actually converse with the camgirls.
Find a webcam model who can help you explore your own sexual preferences. Sometimes people take a while to discover or act on certain sexual preferences, especially if those preferences are perceived as weird or distasteful by society. The good news is, for every kink there's probably a webcam model – and they're probably just a couple of quick internet searches away.
This could be especially great for people who've never had the opportunity to explore sexual preferences or kinks. They'll not only feel more "normal" as they interact with someone else who enjoys the same thing, but they'll also be more confident during future sexual encounters.
Now you're ready!
No matter what your background is, you're sure to find a video sex chat site that suits your needs. If you feel shy about booking a private show right off the bat, try starting with public shows to figure out how things work. Just remember – there's no time like the present!