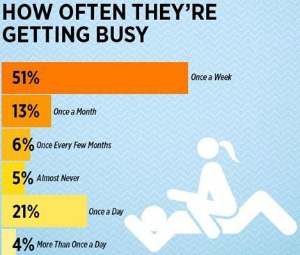 How About You? – How often does the average couple have sex? Most guys think they're not having enough sex. If they only knew how little action the average guy gets. Couples have sex anywhere from once a week to just one time per month. That's the normal range for the typical couple. Think about that for just a second. Do you get laid that often? If so, you should consider yourself lucky. It's not uncommon for new couples to have sex all the time. The sex tends to tamper down as the relationship grows. Kids play another factor in that. Family life can be very draining. It eats up your time and all of your energy. Life has a way of getting in between couples and sex.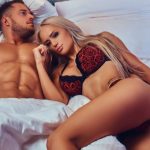 Make Sex a Priority – Gone are the days of 9-5 jobs. It used to be that couples worked the same hours. It was just a few short decades ago that women debated about working outside of the home. Sex was a whole lot easier when the old lady was home and dinner was on the table. Today, lives are busy and couples are far apart from each other. How many times a month do you get laid? More than four? If so, you're in the minority. Less than once and you've got a problem. Don't shoot for sex every day of the week. It's not possible for most couples these days.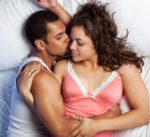 Don't Let it Slide – A few times a week is optimum for new couples. As you age the number will go down. This is natural and you shouldn't be alarmed by it. You should only be alarmed if the sex dries up completely. Sex has an ebb and flow to it. You may get laid more during vacations or holidays. Times that are stressful may produce less results in the sack. A healthy relationship is one that fluctuates in the amount of sex you have. Nothing in life is truly consistent. Don't be surprised if the action in the bedroom isn't.