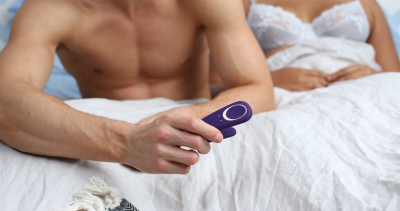 There's a misconception, which has even found its way into some psychology 101 textbooks, that Freud invented the vibrator and prescribed it to treat hysteria in women. It was a doctor that invented the electric vibrator, that much is true. That was Joseph Mortimer Granville, a physician from the UK. He never meant it to cure hysteria or even to be used on women. Granville meant for it to be used by men and to treat things like deafness, spinal disease, and pain. The only sex-related use he proposed was application on the perineum to ease impotence.
Vibrators go Mainstream
It's after companies started marketing vibrators to the general public as medical and domestic appliances in the early 20th century that they became widespread. At this point, women were included in the potential client pool. Some ads even featured babies and the elderly, promising the toys could cure all kinds of malaises, even serious conditions like tuberculosis.
Still, doctors who suggested use of vibrators for women explicitly warned them not to touch the clitoris because it would "cause sexual excitement," as gynecologist James Craven Wood wrote in 1917.
We've Come a Long way, Haven't We?
The world sex toy industry is worth billions today. UK research shows almost 50% of people own at least one adult toy. Statistics for the US population are similar. Here's what else research showed, specifically about these products' health benefits.
According to a series of studies conducted at Indiana University 45% of men and 53% of women had used a vibrator and linked it to enhanced sexual function and sex health proactivity. They facilitate some medical treatments apart from offering fun and pleasure. Here are the specific benefits for men and women.
For Women
Sex toys can help treat conditions like vaginismus (associated with vaginal/vulva pain and tightness), vaginal atrophy, lichen sclerosus, vulvodynia, and other menopausal symptoms. They can be a psychological aid to surgical interventions, some cancer treatments, MS and some other neurological conditions, poor libido, lack of arousal, and stress.
Improved Sleep
A study of menopausal women revealed an unexpected benefit – reduced overnight menopausal sweating and even improved sleep. Evidence suggests using thin vibrators with high quality lubricant enhances blood flow to the groin, which has a beneficial effect with certain conditions. Slimmer toys are often preferable to ones that dilate. In general, sex toys can complement medication treatment, local anesthetic gels, psychotherapy, and other recommended treatments.
For Men
Among the conditions sex toys can help men with are low or lack of libido, premature ejaculation, erectile dysfunction, and some post-surgical issues. For example, constriction rings can make the erection firmer, help one maintain it longer, and postpone ejaculation. Male vibrators with special designs stimulate nerve endings, helping men get an erection faster. As the sensation they offer is quite different from manual masturbation, they can also help with delayed ejaculation.
Doctors concur that some toys can help treat male sexual dysfunction. For example, physicians prescribe penis suction devices to improve erections. One study looked at the use of penile prostheses and penile sleeves, colloquially known as strap-ons. They are an untypical way to allow men to continue a penetrative act if they struggle with getting a useful erection.
For Both Men and Women
Sex toys can help with sexual dysfunction for both men and women. More specifically, they help ease performance anxiety and help people who have difficulty orgasming. If you struggle in reaching orgasm with a partner, you could try to learn to make yourself climax by using a toy while masturbating. This will increase your confidence and make it easier to experience a mutually satisfying sex act.
This isn't to say the orgasm should be your only goal in a sexual interaction. However, one can't deny it's what the whole wonderful journey typically culminates in. Because of their positive effect on physical, emotional, and mental health, sex toys can help you enjoy your journey all the more irrespective of how it ends.
Patients of Dr. Chris Donaghue, Ph.D. who use these products report higher quality of orgasms and masturbation and greater overall satisfaction with their sex life. Whether you're alone or with someone, it pays off to experiment with toys and explore your body because this makes you more likely to be able to improve your sensations. According to a recent study cited by Dr. Donaghue, American women who slept with men who used toys reported a 90 percent satisfaction level.
Conventional Medicine and Toys
More and more doctors are recognizing sex toys as valuable tools to be applied together with traditional medical treatments. An increasing number of healthcare providers in the UK are making an effort to make sex more accessible and to normalize it for their patients as opposed to shrouding it in medical terminology. In fact, the NHS has created a health brochure in collaboration with healthcare providers for patients, which includes information on sex toys.
In the future, it may be that doctors will start recommending sex toys to patients. For now, that's a long way from happening, and many healthcare workers still struggle with conversations about sex. Since medical devices are subject to regulation, sex toys probably won't be made available on prescription.
There is a great variety of adult toys with suction cup which can be used hands free. Remember you should always shop for sex toys from reputable retailers like https://hotcherry.com whose friendly and helpful staff will be available to consult you. At any rate, healthcare providers should not skirt the issue of sexual troubles during appointments. They should try to foster an open, non-judgmental environment for patients to talk about anything they're struggling with.
What to Look for When Choosing a sex Toy
Always go for products made from metal, silicone, ABS plastic, or toughened glass. Jelly and rubber are not safe. Both of them are porous and hard to clean. What's more, they tend to deteriorate over time. Latex is best avoided as well. If you use lubricant, always get a pH-balanced one. To avoid buying the wrong product, which you'll ultimately be unable to use, it's always best to ask before committing to a purchase. You need to be sure you're getting a suitable sex toy.